Faculty Research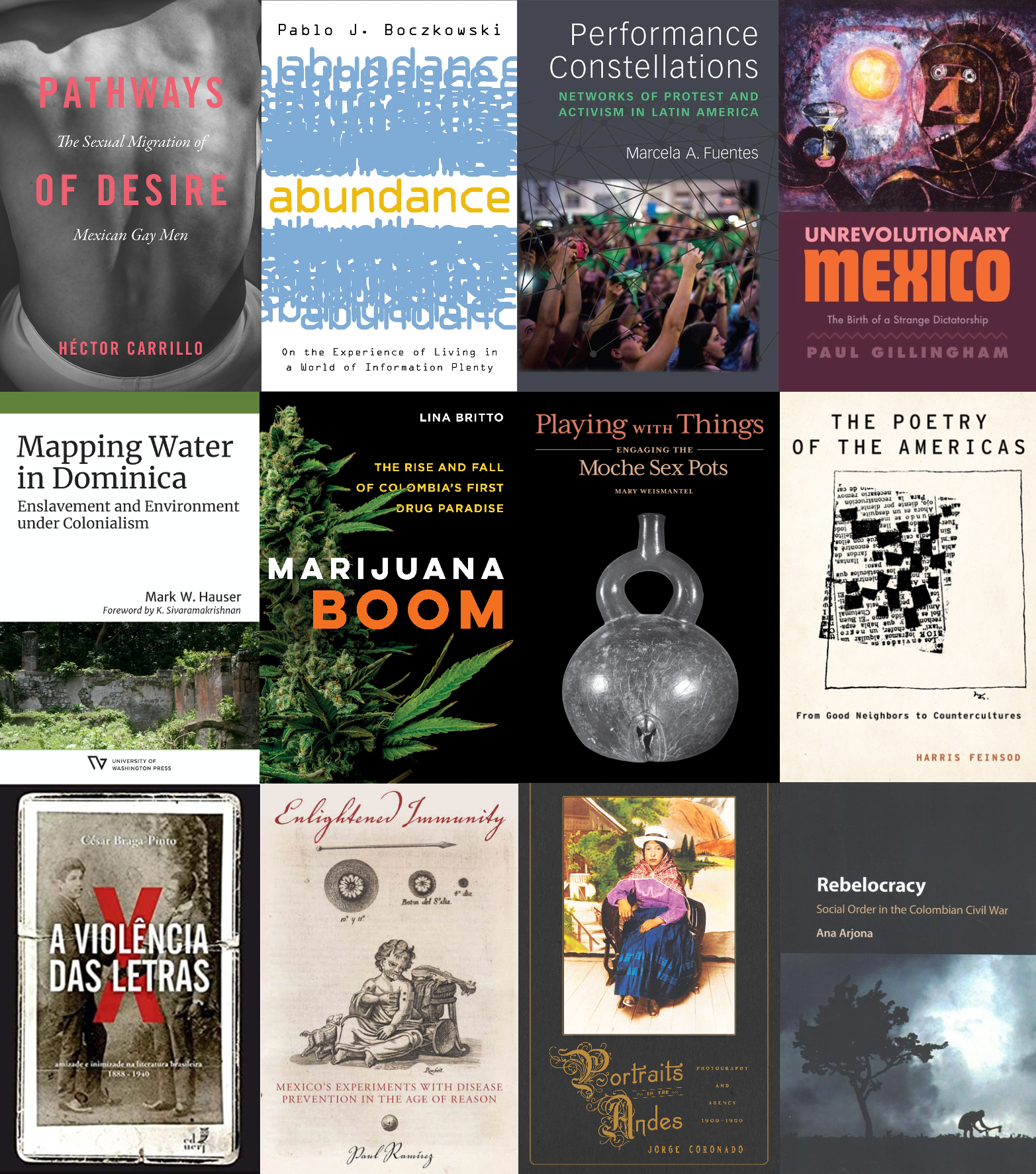 Recent books by our faculty
2022
2021
2020
2019
2018
2017
2016
2015
2014
2013
Earlier
Recent articles and book chapters by our faculty
2021
Harris Feinsod, "Postindustrial Waterfront Redevelopment and the Politics of Historical Memory,"

 

Comparative Literature

 

73.2 (2021)
Paul Gillingham, "A Short History of Violence and Elections in Mexico," Noria Research, June 2021
Emily Maguire, "From Technological Realism to the Science Fictional Turn in Latin American Literature (1985-2017)," in Silvia G. Kurlat Ares and Ezequiel De Rosso (eds.), Peter Lang Companion to Latin American Science Fiction (Peter Lang, 2021)
Jorge Coronado, "On Entrenched Inequalities in the Research University: Activism and Teaching for Tenured Faculty Members," PMLA / Publications of the Modern Language Association of America, Volume 136, Issue 3 (May 2021)
2020
2019
Harris Feinsod, "World Poetry: Commonplaces of an Idea,"

 

Modern Language Quarterly

 

80.4 (December 2019)
Ana Arjona, "Subnational Units, the Locus of Choice, and Theory Building: The Case of Civilian Agency in Civil War," in R. Snyder, A. Giraudy, and E. Moncada (eds.), Inside Countries: Subnational Research in Comparative Politics

 

(Cambridge University Press, 2019)
Marcela Fuentes, "#NiUnaMenos (#NotOneWomanLess): Hashtag Performativity, Memory, and Direct Action against Gender Violence in Argentina," in Ayşe Gül Altınay, María José Contreras, Marianne Hirsch, Jean Howard, Banu Karaca, and Alisa Solomon (eds.), Women Mobilizing Memory (Columbia University Press, 2019)
César Braga-Pinto, "The Pleasures of Imitation: Gabriel Tarde, Oscar Wilde, and João do Rio in Brazil's Long Fin de Siècle," Comparative Literature Studies Vol. 56, No. 1 (2019)
Drew Edward Davies, "Arranging Music for the Liturgy: Contrafacts and Opera Sources from New Spain," Early Music

, Volume 47, Issue 2, May 2019

Mark Hauser, "Huge Oceans, Small Comparisons: Danish Enclaves in the Indian and Atlantic Oceans," in Christopher R. DeCorse (ed.), Power, Political Economy, and Historical Landscapes of the Modern World: Interdisciplinary Perspectives (State University of New York Press, 2019)
Alejandra Uslenghi, "Cartes-de-visite: el inconsciente óptico del siglo XIX," Revista de Estudios Hispánicos, Tomo 53, Número 2, Junio 2019
César Braga-Pinto, "Eccentrics, Extravagants, and Deviants in the Brazilian Belle Époque, or How João Do Rio Emulated Oscar Wilde," Journal of Latin American Cultural Studies, Volume 28, Issue 3 (2019)
Harris Feinsod, "Canal Zone Modernism: Cendrars, Walrond and Stevens at the 'Suction Sea,'"

 

English Language Notes

 

57.1 (April, 2019)

Pablo J. Boczkowski (co-author), 

"The Reception of Fake News: The Interpretations and Practices That Shape the Consumption of Perceived Misinformation," Digital Journalism Volume 7, 2019 - Issue 7 (2019)

Lina Britto,

 "'Legalización o Represión': How a Debate in Colombia Steered the Fate of the 'War on Drugs'" in

 

The Social History of Alcohol and Drugs

 

33: 1 (Spring 2019)
Héctor Carrillo, "Cultural Archipelagos and Immigrants' Experiences," City & Community Volume18, Issue1 (March 2019)
Claudio Benzecry, "El infierno es que las cosas sigan así. Violencia y representación etnográfica," Revista Hispánica Moderna 72 (1). 2019.
2018
2017
2016
2015
2014