In Memoriam: Frank Safford

Frank R. Safford (1935–2022)
Seeing Frank at Latin American and Caribbean Studies' events wearing a helmet, a reflective vest, and ankle straps after having locked his bike on a rack nearby, was a common sight. It did not matter if it was too windy, a little rainy, or almost dark out. His loyalty to one of the programs that he helped build at Northwestern University was lasting, enthusiastic, and resolute. That was Frank Safford in life and at work.


Author of some of the most influential scholarship on nineteenth-century Colombian and Latin American history, Frank passed on June 16, 2022, leaving behind an enduring legacy. Born in El Paso, Texas, on June 4, 1935, Frank soon became Pancho, after one of his caretakers, a Mexican woman, affectionately christened him when he was a baby, and his family embraced the Spanish moniker. After finishing high school, Pancho began his studies at Harvard University, where he majored in U.S. History and Literature, graduating magna cum laude in 1957. At Harvard, he also met the love of his life, Joan Bainbridge, a brilliant student who was the daughter of a distinguished professor of physics, and married her in 1959, while working toward his M.A. and Ph.D. degrees at Columbia University.


It was at Columbia that he discovered Colombia, after he realized that his declared field, U.S.history, was too navel-gazing for his taste. Following the examples of his advisers, Frank Tannenbaum, an eclectic historian and sociologist who served yerba mate during his seminars and revolutionized the field of Mexico's history in the United States; and Lewis Hanke, a specialist of the Spanish conquest of the New World who pioneered the study of the reform movement of colonists fighting for the rights of native Americans, the young Pancho aimed to travel new roads. He did not consider Mexico an option, despite his familiarity with the country, because it was a common area of study among his generation. His insatiable curiosity led him to a country that was little known in the United States, and Joan went with him. In December 1960, after he passed his comprehensive exams, the couple crossed the border, from El Paso to Ciudad Juarez, and embarked on buses, vans, and trucks through Central America, arriving in Colombia on February 1, 1961. For a year and a half, the Saffords explored the country at the archives and through friends and their daily personal experiences.


During this period, he planted the seeds of his lifework. His dissertation, "Commerce and Enterprise in Central Colombia, 1820–1870,ʺ was the product of monumental research in Colombia's private archives that although never published is still considered a benchmark of the study of the country's transition from a colonial to a liberal economy.
After receiving his 

doctorate from Columbia University in 1965, his delight in discoveries led him to new projects. Pancho's work on the importance of the region of Antioquia and its capital, Medellin, in the economic development of the nation was written in Spanish without the assistance of translators nor copy editors and published in 1967 in the prominent

Anuario Colombiano de 

Historia Social y de la Cultura to become an instant classic.

H

is first published book,

The Ideal of 

the Practical: Colombia's Struggle to Form a Technical Elite (1976) was an analysis of a series ofuntapped collections that contributed to modernize the discipline of history in a country that was still narrating its past through the lens of patriotism and the deeds of its forefathers. For decades, he addressed a variety of topics with originality, making Latin America more legible in the United States. He wrestled with hard questions, took distance from stereotypes, used the Colombian case to illuminate the region, engaged in relevant debates in Spanish and English, and worked with others in collaborative projects. His essays on politics and ideologies for The Cambridge History of Latin America (1985), on political order for the Journal of Latin American Studies (1992), and on civil wars for Rebecca Earle's Rumours of War (2002), are some of his most impressive short works. Colombia: Fragmented Land, Divided Society (2001), a book co-authored with his close friend Marco Palacios, is perhaps his most pivotal publication, one that bridged history and geography inviting us to consider the materiality of the state and the physicality of the nation. His innovative work was recognized with all kinds of accolades in both Colombia and the United States, including the Order of San Carlos by Colombia's Presidency of the Republic in 1995, and an honorary doctorate in Engineering from the Universidad Nacional de Colombia in 2011.


He was equally creative and bountiful in his pedagogical and administrative work at Northwestern University. After teaching at Dartmouth College from 1962 to 1966, Pancho was hired at Northwestern, got tenure in 1972, and became full professor in 1976. Along with Josef Barton, he defined the field of Latin American history for our department. In his courses, he addressed a wide range of topics, from the formation of Latin American societies during the colonial and independence periods to race relations and slavery, politics and development, revolution, U.S. hegemony, and the role of the media. He served as chair of the History Department in two occasions (1986–1989 and 1992–1994), as associate dean for Social Sciences twice (1994–1998 and 2000–2001) and as director of the undergraduate program in International Studies (2002–2006) before retiring in 2010. In every position, he redefined what was possible. The elegant Harris Hall room 108, the vibrant Latin American and Caribbean Studies program, and the formative first-year seminars were all enhanced thanks to Pancho's administrative skills.


Still, his most notable achievements and enduring legacies happened in his personal life. Pancho did not hesitate to take a back seat when his beloved Joan decided to go to Law School 
becoming a

prominent attorney in the U.S. Attorney's Office and then the attache for the U.S. 

Department of Justice in Mexico.

His youngest son, Joshua, remembers in a letter written to his father, shared with relatives and friends after his passing, that "you did not feel displaced, you were emboldened and proud to let her steer the ship, you were a partner, you did not need to be captain." A man of reason and facts, Pancho found ways to support and celebrate his two sons in their artistic careers of storytelling and puppeteering. "You were a goofy glow worm example more than you knew," Joshua wrote in his goodbye letter. It was a radiance that even h

is colleagues enjoyed. "H

e was a very good leader with an even and sunny disposition," affirms Sarah Maza, who became department chair a decade after him. "

He thought the best of 

everyone," Sarah explains, "

he was

one of the best chairs we have ever had." Brodwyn Fischer, his closest colleague during the last decade before his retirement, remembers him as being "extraordinary in understanding where he ended and I began." With a young and growing family before having tenure, she might have been in a precarious position, but Pancho's support inspired her to navigate the profession with self determination and confidence. "He embodied feminism," Brodwyn concludes, "he trusted me that I will do what was right for my work." An encouraging mentor to both students and colleagues, Pancho was first and foremost an educator and a role model, a luminous presence with a silly sense of humor and an inquisitive mind.


One of his younger colleagues, Eduardo Posada-Carbo, a leading historian of nineteenthcentury Colombia in his own right, remembers Pancho attending the Latin American Studies Association (LASA) annual conferences regularly. For years, he chaired a series of informal meetings of Colombianists that he named Los Inmarcesibles (unfading, everlasting), in a witty reference to a verse in the Colombian national anthem. After a few sessions, his colleagues at LASA decided to drop the name because "it lacks seriousness." Pancho lamented it. And yet, unfading and everlasting is the mark he left behind. Gracias, maestro!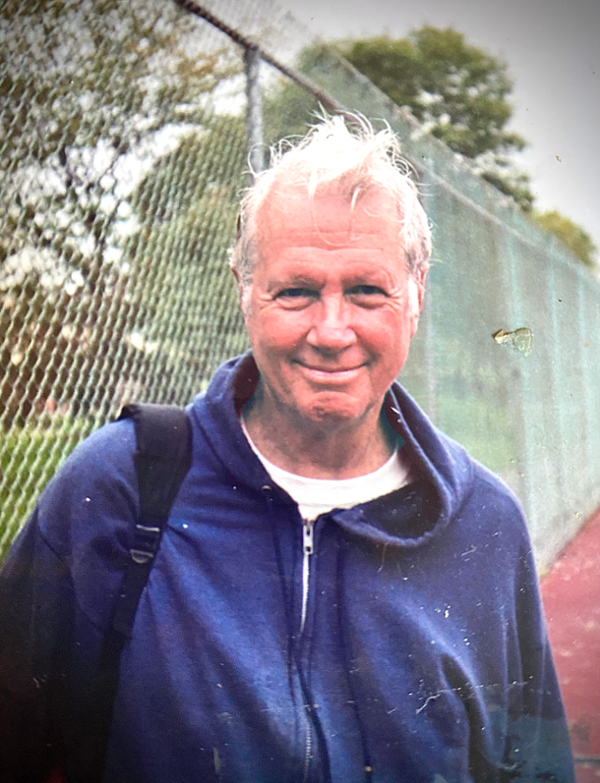 LINA BRITTO
Department of History
Northwestern University



Photos captions:
#1: Pancho and Joan Safford during a trip to the countryside, Bogota, Colombia, 1961.
#2: Pancho after playing tennis, one of his life passions.
Back to top